Discussion Starter
·
#1
·
As spring is upon on us Minnesotans, and we give up the big bulky jacket(s), I renewed my search for an IWB holster for my Bersa and my PT111. Pocket carry is fine for the winter, but for the spring/fall I prefer something a little more concealable and something that I can wear all day without feeling too uncomfortable.
So, I started reading reviews and looking at holsters (on the internet, where else?) I came across the Versacarry. It is not really a holster but more of a "concealment system", according to their website. After reading some rave reviews, I decided to get one and try it out for myself. I had a eBay coupon/bucks cert - so that knocked my price down a bit - and I ordered one through the official Versacarry eBay store/seller. Item was delivered quickly.
Packaging is quite simple; and instructions are easy to follow.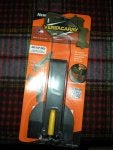 Phone not included! (Picture shows the relative size).
Trigger-guard is optional and you can use the other supplied pieces if you don't want the trigger-guard.
For those of you not in the know, the way this works is that the kydex piece slips into the barrel. This can be a bit of a task at first, and it took some coaxing to get the plastic/retention piece into the barrel. Once this is done, you slip the whole thing inside the waistband, and the clip fits over the belt. One of those things that makes you go "Why did I not think of this!!?" . The kydex is really tough and does take a lot to clip it over the belt. Might help if your pants are size larger
That's what it looks like installed.... (contd).