This little PPK look a like came from Classic Firearms as a surplus. I also ordered a second magazine, for a cost of about $270 after shipping and transfer. This model is chambered in 9X18 Makarov,
This Mak weighs in at 28.2 oz's with a full magazine. It is 6&1/4 inches long & 5 inches high. The slide is 1 inch wide and the rubber grip is 1 & 1/3 inch wide. The gun came from Classic dry, no lube anywhere, and no cosmoline...yippee!!! So a quick strip, clean and lube and this little Russian is ready for duty.
Initially I had multiple kinds of feed issues with the original mag and fail to lock back occasionally. The feed lips had been spread too wide and slightly bent out of parallel. So I spent some time using the oval cutout on my bench block to lightly press the feed lips back into the correct geometry and those problems were resolved.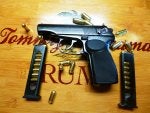 The finish on the frame and slide is in good condition as stated by Classic. Very little wear , and no scratches or dings. I did replace the plastic target grip with a rubber grip which did help mitigate the somewhat snappy recoil. Once the magazine issue was resolved it has run over 200 rounds of S&B and Fiocchi 95 grain brass range ammo with no failures. There is a slide mounted safety/decocker. The DA trigger pull comes in at 11.4 lbs with a 1 inch long somewhat gritty travel until a hard wall. The SA trigger pull measures 4 lbs with a short 1/4 inch reset to a crisp wall. Running the pistol is a pleasure and it shoots to POA.
I did put a dab of white nail polish on the front sight blade to help these old eyes. This sticky was shot at 15 yards. The Makarov is an excellent pistol, it feels perfect in my hands and shoots accurately. The slide stop/release works like a dream. There are no rough edges to contend with either. The Bulgarian version of the venerable Makarov seems to be a great representation of Nickolay's design. Thanks for taking a few minutes to read the review.