Discussion Starter
·
#1
·
So, after reading about the TCP being on backorder in another thread (here:
http://www.taurusarmed.net/forums/700-s/237450-tcp-back-ordered.html
), I did some digging around and discovered that Taurus is introducing a new gun called the Spectrum.
I've not been able to confirm that the new Spectrum pistols are a replacement of the TCP, but being that the two guns would seem to be aimed at the same niche, I would expect the TCP line would end to ensure the new guns are commercially successful.
The new pistols are .380 ACP pocket guns with a 2.8" barrel and 10.2 ounce weight. Flush magazines hold 6 rounds while extended hold 7. The MSRP will be about $286.
The most obvious thing about these pistols is the wide range of color combinations available that include both white and black frames, black and stainless slides, and at least 7 different color inserts. This offers the potential of having dozens of color combinations to make the guns a bit more customized for the shooter.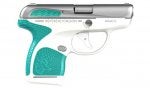 Shameless plug (let me know if I should remove it): You can read more about these guns/see more photos on my website here:
Taurus Spectrum: Colorful New .380 Pistols for 2017
Also, I'll be at SHOT in a few weeks and will get additional photos and details on these new guns then. I'll post more details when I have them.
-Richard