I took my new Taurus G3 and my winter carry, Walther PPQ out for some range work this afternoon. After days of rain, washed out roads, and a freeze this morning. The early afternoon was beautiful, so it was time to work out the new G3. Also for my bench review follow this link:
https://www.taurusarmed.net/forums/millennium-pro-pistols/418455-taurus-g3-tabletop-review.html

I started with a full mag of Federal eagle 147grn FP, in both the G3 and the PPQ. The G3 grouping wasn't terrible, but the POI was 1-2" to the left. In fact looking at both the PPQ and G3 targets the overall grouping wasn't that dramatically different. But before I adjust the rear sight, it is time to keep on running different loads through the pistol to break it in. I also had to eventually adjust the PPQ sight a bit to the right as well a month ago. So it is more than likely my shooting style, than a POA-POI issue for the G3. So after a few more magazines, I applied an 8" sticky and went to town. The G3 target was at 12 yards and I was firing relatively fast, just enough of a pause to watch the front sight come back to POA. This is a mix of several reloads and the G3 proved itself to be accurate.
So it was time to back out to 20 yards and continue a pretty quick run of the trigger. Just a quick aside on the G3 trigger. It is sooo much better than recent Taurus poly guns. Quick to hit the wall and easy to find and run the reset for those fast followup shots. The trigger pull is still measuring a consistent 5.5lbs after today's run. So how about the G3's range manners? The Taurus grip stippling is perfect for me. Enough to lock into your grip, but not painful. The sights are ok for a basic 3 dot type of sight. But better sights would be a great upgrade for this platform. The recoil impulse was more controllable than the PPQ, but it does weigh 3 more oz's. I ran over 200 rounds today, and had no soreness in my hand or trigger finger. The magazines fall free quickly, and reloads are similar to most other poly sliders without a dedicated magwell upgrade. Shell ejection was perfect 6-8 feet back and to my right, no hot brass beaning my head or trying to roast any chest hairs.
Here are the types of ammunition I ran through the G3 today. It ran over 200 rounds, with no failures of any kind. As you can see my reloads run a gambit of short and long COL's, powders, weights and can be an issue in some pistols. However the hungry Taurus just kept on eating and ejecting like a champ.
The G3 did get a little dirty today, but nothing unexpected. Wear patterns on the contact surfaces between the slide and frame are as expected. However after today's session I can say that the Tennifer coating is doing its job. There is very little wear on the slide bottom or internal rails. Not even much wear on the top of the internal slide, where the barrel shroud rubs against it. If the external coating is as tough as the internal coating, this pistol should age quite well.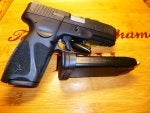 I know I may be sounding like a Taurus shill, but if you read my reviews, you know I will complain about Taurus failings. I don't hide short comings on any pistol I review. In fact it is time now to bring up my only complaint/concern I have with this pistol. During re-assemble the slide hangs on assembly about an inch from battery. I found if you wiggle the slide slightly side to side it reassembles fine. I assume this will get easier as the pistol breaks in. So here we go with the subjective star ratings.
Ergo's and grip comfort - ****
Accuracy - ****
Reliability - *****
Sights - ***
Value - *****
For an overall rating of 4.2 stars.
The Taurus G3 is an excellent pistol and provides a feature rich platform at a very reasonable cost. I appreciate you took the time to read my review of the Taurus G3 today. Obviously I still need to run a few hundred more rounds through it before I can add to my carry rotation. But it will serve that mission well, if the reliability continues to be acceptable.