My most viewed and commented thread was on a comparison of 9mm to 357 out of a snub nose revolver that was done by Mac over at the Military Arms Channel.
https://www.taurusarmed.net/forums/firing-line/397743-9mm-spanks-38-special-rivals-357-magnum.html
I followed up with a stand alone review of the Taurus 905 I purchased for comparing 9mm to 357.
https://www.taurusarmed.net/forums/...review-9mm-snubby-better-than-38-special.html
I recently picked up another 605 in polished stainless with a 2.5 inch barrel to compare with my new 605 with the 2 inch barrel and the 905. First I will discuss the old 605: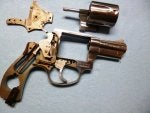 This 605 was made in 1996 and is the pre-lock version. It came from Gunbroker and my total OTD was $265. The internals were a gooey mess and the stainless finish was tarnished. As I do with all my revolvers, I deep cleaned all parts, soaked then in CLP overnight. Cleaned and polished all action surfaces, then I begin the process of finding the correct DA and SA spring combinations to be a safe, but accurate carry pistol. NOT POCKET CARRY however - if you are going to pocket carry stick to the original springs, also if you aren't willing to train with a few hundred rounds including holster protocols, then again do not get the trigger lightened.
After the cleanup I did some light polishing to the exterior surfaces and it shined up very nice. I blacked out the rear integrated channel sight and added a dab of white paint to the front site. That is a necessity with this finish, the matte sight channel, rear sight and the front blade are all the exact same shade, and the front sight gets lost when lining up a shot.
I also replaced the Hogue monogrip with another Uncle Mike's 59008 combat grip ( yes I found two of these relics in less than one month ), this grip hands down is best at grip control and recoil moderation available for the Taurus small frame revolvers..IMHO.
So lets discuss these three Taurus snub nose revolvers and answer the question I posed in my subject line, is 9mm better then 357 out of a snub nosed revolver. First lets talk about each revolver and what it brings to the discussion.
The new Taurus 605 with the 2" barrel weighed 23oz's. Here is the full review:
https://www.taurusarmed.net/forums/...inless-review-workhorse-boudoir-revolver.html
. The new 605 has upgrades from the pre-lock version. Overall the action on the prelock while very similar, does have a few shortcuts. The hammer strut relief cut on the hammer is a simple squared out slot - where the new 605 uses a more balanced cutout allowing more depth for the upper arm, and room for movement - less wear over time. Both hammer and trigger struts were better finished and were smooth enough I didn't have to mod them.
Both the 905 and the older 605 struts needed sanding and polishing. I was able to spring down the new 605 to a smooth 8lbs DA and a crisp 3.5lb SA. I find this a perfect combo for me. The 905 was able to get to 11 lbs DA and 4 lbs SA, the older 605 however would only operate with the original hammer spring but I was able to lighten up the trigger spring. It now has a 13lb DA and a crisp 3lb SA pull. Now all three of these revolvers had light usage and probably will smooth out even more over time.
Getting a bit too technical here, so time for another pic of the old 605. Ok now that I got your attention again - lets get geeky.
Old prelock specs: This version of the Taurus 605 weighs 22.9 oz's unloaded. It required complete disassembly of the cylinder, to fix hard indexing and grinding when ejecting shells. This was simply cleaning off old factory lube, crud, and a light polish to the bearing surfaces of the cylinder shaft. It is 6 7/8" long, 5" tall, and 1.37" wide. It shoots to point of aim and as with all revolvers for me it is more accurate with 357 loads.
Here is a target set at 15 yards showing the accuracy of this older 605, and I can say it was slightly better than my new 605. This is probably due to the slightly longer barrel even with that heavier DA pull. By the way I only use DA when using and testing revolvers now. It is imperative we be able to use a revolver with stress shooting in mind. If you only shoot SA to get a better target hit, you are cheating yourself. Learn how to use that DA trigger. Ok you hung in there so now the dessert, is a 9mm revolver better than a 38/357 revolver?
After shooting these three snubbies , my S&W j frames, and a ruger SP101. I have to say - sorry guys - 9mm while very accurate is simply not better out of a snubby. The recoil impulse of the 9mm is equal to standard pressure 357. I may be a bit biased - let me explain. My first shots out of the 905 using the bootgrip, caused significant buzz to the nerves in my right hand (I now have damage to that nerve and swelling back by my wrist from those shots) . I did use an Uncle Mike's combat grip during subsequent testing, and that tamed that straight line impulse, but proved to me, two snubbies with the same size, weight, and grips had equal recoil in both 9mm and 357. Recoil was Mac's reason for recommending a 9mm over 357. But...there is always a but - For me to achieve equal accuracy I have to use 357, and the stellar clips make reloading the 905 considerably faster. However those stellar clips, both Taurus and TK are hard to load and unload, and require some maintenance to keep them flat. Both versions tend to bend with use. I can say using my real world testing that while an intriguing concept , a revolver caliber shoots better in a revolver in real world use. Also standard 357 SD loads do more terminal damage than standard 9mm SD loads.
This has been a fun trip, (except for the nerve damage). I shot hundreds of rounds in all three calibers out of several revolvers. I plan on selling off the 905 because my right hand demands justice
. It is beautiful, and a good weight and size for carry. But a younger person would shoot it better without 63 old abused wrist nerves and tendons. I must admit I shoot from 400 to 1000 rounds a month out of several platforms, and my wrists get mucho abuse. I will sell it with both the boot grip and a Hogue monogrip, along with the 5 new TK stellar clips. to sweeten the deal for my gun show dealer. I plan on keeping both 605's for now as they are great shooters. Thanks for reading my review. Get a new shooter out to the range and be an ambassador for our community.