I struggled mightily these last 3 months trying to decide what Taurus snubby I should purchase: The 856, 85 or 605. I have a buyer for my S&W j frame 60-15 3inch, and needed a replacement bed table and snake shot revolver. I hate to let the S&W go, but the price is right and the new Taurus costs half of what I am getting. My price OTD was $328 for the 605.
I chose the 605 over the other two because, first a direct replacement for my S&W would be a 357, but also I didn't want to be a guinea pig for the new 856. I did that with a Taurus PT1911 commander and had to send it in for an 11 week repair. I had previously owned an 85 and it was sweet, but not a 357. So you must be asking yourself by now, what kinda nut would want to run and train with a snubby chambered in .357. I am that kind of nut.
This is how the internals look like from the factory. I did my normal polish friction surfaces, and a clean and lube on it. Then tested the trigger pull. From the factory and after 200 dry fires the DA trigger measured 12lb's, the SA was 8lb's. The pull was smooth and the break predictable. But I am spoiled because the S&W had a better trigger. So I ordered the Wolff kit and installed the springs. There is a mod you have to do to either trigger spring that comes with the kit. Basically you have to cut 2-3 coils off, so the spring will compress enough to get a set pin in the shaft, to hold it for reassembly. The older 605's must have had a slightly different sized spring shaft. The instructions warn that a mod would be needed. After the mod DA pull is 8lbs and SA is 3.3 lbs. Since this won't be a carry out in public piece I am not concerned about doing a trigger job. DO NOT do this if you plan on carrying for self defense.
Here it is after running 50 rounds of 38 and 50 rounds of 357 today. The 605 stainless weighs 25oz's loaded with 5 rounds of 158grn 38special +P. It has a 2" barrel and is 6.5" long,4&7/8" tall with the ATI
[email protected]
grip installed, and is 1&1/2" wide. The sites are milled into the frame, in a notched rear, blade front setup. I used a black sharpie to color in the rear notch, and a dab of white paint on the front blade.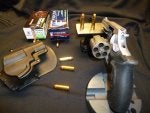 Another view of it dirty after the range work today. The Taurus hard rubber boot grip was ok for 38, but would allow too much torque when shooting 357, making accuracy a real challenge. I am trying these ATI X2 Scorpion grips for awhile to see if that helps. While the X2 grips do allow for much better control and some better recoil absorption, they are not that great. I get a good rap to the knuckle in front and the extended beavertail is a bit too much, causing some pain in the web of my right hand. I wish Pachmayr made a Diamond pro for this puppy, but alas they don't. The older combat/target grips are hard to find..So I will probably do a few mods to the X2 to get by for now.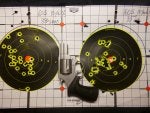 So how does it shoot. The two targets above were both run at 10 yards. I used a mix of 38 bulk and 38+P JHP for the 38 target, and used a mix of 357 bulk along with 158grn 357 JHP's for the 357 target. Like the S&W the 605 shoots 357 more accurately than 38 special for me. But I will not lie 357 is a handful with this small frame Taurus snubby. I will probably keep 38+P in it for the bed table, and CCI #4 snake shot when out on the property. This revolver is well made, lockup is very tight on all 5 cylinders, and timing is perfect. So to answer the question above, it
is
a workhorse. I ran 100 rounds in about 40 minutes, had no problems with stuck cases, cylinder fowling, or any issue at all. It ran just as accurate hot as it did cold. Once I get the grip modded to my liking, this could be a great all day gun. `