When attending the Shot Show most people (Yup, me included
) are amazed and even a bit intimidated by the physical size and numbers of the show. If you ever walked into a gun show and tried to find a particular vendor for the first time you know what I am talking about. Now take that confusion and multiply it by 1600 vendors over 5 floors and you have an idea of the Shot Show.


Many of those attending get caught up in visiting all the major brand booths and that is how they spend their time. I have learned that while I too visit the name brand booths I have planed ahead and have a list of those I "really" want to see. By doing it this way I find I have the time to wander the "back aisles" and the "dusty corners" of the show and by doing so I find some real keepers.

This review is about one of those keepers. I know that the word "tactical" has been added to everything from firearms and clothing to bacon and bikinis. It seems that everyone selling something wants tactical in the name in hope of selling a few more units.

To me, tactical means something totally dependable, something that allows the successful use of the item in a covert situation, and something that is designed and manufactured with the intent of increasing the success of such a covert undertaking. OH, and I guess it has to be black!


Let me introduce the Tuff Writer Mfg. Company. This company is located in Phoenix, Arizona and they produce, among other things, tactical pens. Now to be completely honest, I have heard of tactical pens for a few years now but I never took them seriously... Shame on me! I dropped the ball!
I am one of those individuals who actually carries a pen with me every day. I appreciate a fine pen as the writing instrument it is and I believe a fine pen makes a statement. I carry a Waterman Pen (Montblanc pens are too thin for my large hands) and if any of you are familiar with the brand you know it is not an inexpensive pen.


Whenever I heard the term "tactical pen" in the past I always thought it was some sales gimmick and that it could not, in any way, out perform my Waterman. Like I said earlier... boy, was I wrong!

When I stumbled onto the Tuff Writer Booth (it was tiny... in fact, the company was sharing a small booth with another equally small company) I was welcomed by Lesley Roman. He is a very enthusiastic individual and proud of his product. I asked him to educate me on what exactly a tactical pen was.... he explained it was a pen that would be your last ditch tool for your self protection in a case where you were not permitted by law to carry a firearm or other weapon. It is a protection device you can carry on a plane through a security check point or even into an area that society may frown on weapons such as a church.

Tuff Writer makes 4 different model pens... the Titanium, the Operator, the Precision Press, and the Front Line. They are manufactured from 6061-T6 Aerospace Grade Aluminum or pure Titanium and are also offered in a variety of colors and finishes. They also produce tactical pencils, lights, and watches.

After I heard what Leslie had to say about his product I told him I was impressed and that I was going to research personal defense using a pen as a weapon. I told him after I did some research I would like to try out a tactical pen both as a self defense weapon as well as a daily writer. He immediately handed me one of his tactical Operator pens and told me to give it a workout. The operator is a bit thicker than the other Tuff Writer pens at 5/8ths of an inch thick as well as a bit heavier at one and a half ounces.

I am in no way an expert at self defense methods using a pen. I have however, in my short (so far) research found that a pen is very capable of disabling if not fatally injuring an attacker. At this point I think I can defend myself from a sudden attack better with the pen than with a knife. Before everyone stones me for uttering such blasphemy let me explain. I can always have my pen, even where my knife is not allowed or available. My pen does not advertise it is a weapon as trying to pull out a knife would do. Finally, if you can stab or poke you can use the pen to stop an attacker. I am not suggesting y'all leave your gun at home but if, due to circumstances beyond your control, you have to don't forget your pen!

My Tuff Writer Operator is amazingly strong! It will withstand pressure of more than 750 PSI before it will bend or crush. It uses a thixotropic ink in the hermetically sealed cartridge and is pressurized to nearly 35 psi The cartridge lasts three times longer than a standard ballpoint pen. With an estimated shelf life of 100 years, the pen writes at altitudes up to 12,500 feet where most other pens simply won't and no matter how harsh the conditions the pen will work with operating temperatures from -30 to 250 degrees Fahrenheit (-35 to 120 degrees Celsius).

Before I told y'all that this pen was tough and could be depended on I wanted to make sure it was. I took it out to the barn and proceeded to see what I could do with it. I am happy to report that simply using an over hand stabbing motion the pen was able to completely penetrate a piece of half inch plywood. It also penetrated a piece of half inch sheet rock using a simple poking motion. My biggest surprise came when I was able to penetrate a piece of half inch plywood covered in heavy tar paper with an outside sheet of corrugated steel roofing! All this from a weapon that is legal to carry anywhere and is accepted everywhere! Imagine what that kind of penetration would do against flesh and bone if it ever became necessary to use it...

Finally, I would like to say this... given my life as it is and where I spend most of it I don't see myself needing a back up gun or spare magazines. I don't see myself getting into a running battle with bad guys where I will have to duck behind a dumpster and shoot through car doors. This being said, I am confident my concealed carry firearm (a Glock 26) with what the magazine holds (15 rounds) will protect me should the need arise. At the same time, due to my exposure to the Tuff Writer Pen and the research I have done since then I will be carrying a back up pen! I will be talking to Mr. Roman at Tuff Writer about purchasing another pen for my daughter to use at school! Pens are completely legal on campus!

Check them out, do your research and I think you will agree with me that this is a form of self defense that anyone, men, woman, and even children can be taught to use to protect their life when other weapons are not available!

Tuff Writer Mfg.

[URL]http://www.tuffwriter.com/
[/URL]
Phoenix, Arizona
480-205-5359

Don

.

.

.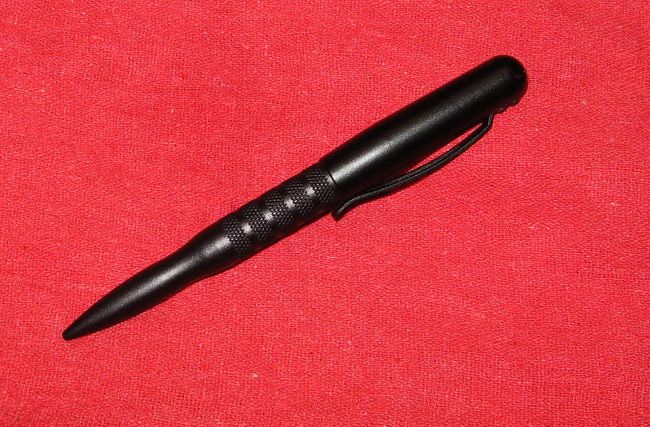 .