Discussion Starter
•
#1
•
So i went to the range Saturday morning and took my 7 year old daughter along with me for her first shoot. I didn't get to shoot as much as i wanted, but i knew that would happen the second i said she could come along. So in letting her shoot my Marlin .22, i learned that she's cross eye dominant. She just couldn't get the concept of looking through the scope with her right eye while closing the left. We'll work on that at a later date, but i was really surprised that she shot 35 rounds out of my Hi-Point 995 and didn't even want to touch the .22 anymore because the carbine made a bigger bang. Much better than her big brother who shot 6 rounds and wanted to go back to the .22.
I got to run 150 rounds through my 1911, and have to say it was definitely a blast. I'm still not used to those GI "sights", but i'm getting better at putting holes where i want to with them. Went to aim for a head shot and threw one shot through the "left eye", so for the sake of symmetry, i gave it a "right eye" as well. The gun is definitely far more accurate than i am, so when i finally give it a sight upgrade i may be able to get our abilities in sync. As usual, i don't mark groupings because most of my handgun shooting is rapid fire. But i was happy to not have a ton of fliers on this target given the amount of rounds i shot.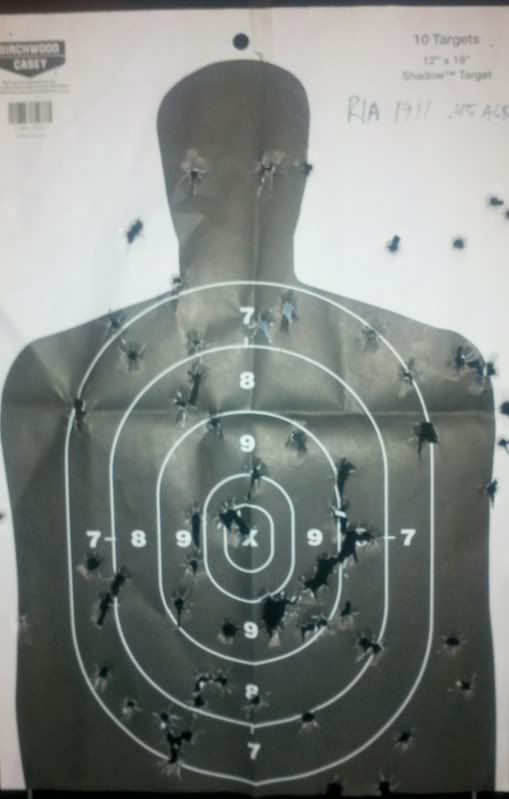 Today while i was out i took a ride out to a LGS and cruised around the store a bit. I just happened to wander into the grips section and ran across a new set of grips. Hogue Exotic Woods 1911 grips with finger grooves, and boy do they feel as good as they look. They had about 15 sets with the finishes varying in slightly lighter or darker shades, but they were listed at $55 per set. Then i just happened to scan down a few hooks and found 2 pairs listed at $35, which i suspect were older models. There's a 1/16" gap between them in the grooves, but oddly enough i don't even feel it, and it's only seen if you turn the pistol in an unsafe direction. I love the way the wood looks on there, and feel of the finger grooves is what i loved about the rubber ones i had on it.