Hello Friends, I finally went out and shot the 12 gauge model TK 12, Yildiz Silah Sanayi single break barrel shotgun! Yildiz Silah Sanayi is a company in Turkey, and have been making shotguns since the early 1970's.
I shot four Hornady American Whitetail Rifled 1 oz 2 ¾ Slugs
And also out of the Short Lane 12 to .22LR shotgun adapter both Aguila Standard Velocity match and High Velocity Super Extra .22LR
The first thing to mention is this model is made exclusively for Academy Sports, and also that I do not have any sort of affiliation with them or any of the ammo manufactures.
Note, If you do this following fix action.. it is at "at your own risk". You are responsible for any damage that you may do to your own firearm:
I read and saw some reviews around the internet saying that the break barrel was "very" tough to open. If you look at the picture further down, there is a "second" trigger that when pressed breaks the barrel open to load a new shotgun shell into the breach. On mine, I had to hold it "upright" against my leg to open it! So.. I took some small diamond files and "just a little bit at a time" I smoothed out the part of the barrel as seen below in the picture, and that did it. Not too much.. just a little bit to "break" the edges and the curved and flat parts. You can also barley see that there are "witness marks" almost like on the inside of slide of an automatic pistol where there is frequent contact, I paid attention more to those marks as I think they left too much material there. NOW… she opens horizontally.. like normal.
Note in regards to the four slugs, I was once again hitting way left as I was trying to focus on my stance and recoil management rather than pin point accuracy. The recoil pad (Uncle Mike's brand) that I had to modify a bit, did a GREAT job, however because this shotgun is on the light side, I knew that the kick would be more than the other 20 gauge that I returned… and it was. I do not see any bruising, but it feels like I lifted some weights where my shoulder is. I am also VERY HAPPY to say, NO CRACKS in the wood.. I checked three time. No problems at all. The receiver seems to be made from some sort of alloy, and it's silver in color. There is also a safety on the top of the receiver, forward red / hot, backwards safety is on. I also able to put that Allen Shotgun shell holder on the stock, that holds five shells.
The Short Lane 12 gauge to .22LR shotgun adapter worked really great! Interesting results to note. The Aguila .22LR Standard Velocity match ammo at 25 yards I did hit center mass, but more of a wider area. I then switched to Aguila .22LR High Velocity Super Extra, with the copper plated round noses, that is similar to CCI Mini Mags. I shot two at the 25 yards, and if you can see it from the picture below, the holes are "much" cleaner. When I brought the silhouette target to 15 yards for "head" shots, you can see the accuracy is a bit better. I think, that if I had a red dot scope on top of the rib rail that this shotgun barrel has, my shot placement would be much better. Note also again, that the holes are "much" cleaner. Probably because the Short Lane Adapter is the "scavenger series"...
....and is a very "short" adapter, the high Velocity rounds are better to shoot out of it. I also did not find any info on the manufactures web site that stated that I "could not" use High Velocity ammo.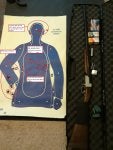 The things I like about this shotgun:
1) For the price (and I did get it for about $100 USD, it's usually about $119.00 on sale, normally $149.00) it is a great shotgun. Single shot makes you "take your time" and enjoy the shotgun more. For a hunting or target shooting, as long as you have a decent "recoil pad" for the end of the stock, it a great one.
2) For a "survival shotgun", it makes a great one combined with those Short Lane shotgun adapters, you could have one gun.. with many caliber and shotgun gauge choices. I'll probably pick up the .410 bore / .45 Colt adapter next… or the 9mm.
3) For a self-defense / home defense shotgun? Yes, if you train with it.. not my first choice, but as a 2nd or 3rd option.. great. Putting size #4 birdshot would be the way to go. Also have a shell holder like I do on the stock and "practicing" using "spent" shotgun shell to see how fast you can eject and insert another shell would be key. This shotgun WILL "clear the path" in front of you, make no mistake on that!
4) There "IS" more choices out there for 12 gauge shells, the price is the same as 20 gauge, but the there "way" more selection. That's one thing that I learned here on the forum from others.
5) It has on the barrel that this shotgun "can" shoot 3 inch magnum shells.
6) It's light.. so shooting calibers like the .22LR that I was shooting today, it was almost like having my single shot bolt action rifle.
The things I do not like about this shotgun (not much, but three things)
1) It's light, and in regards to shooting the 1,600 FPS rifled slugs, the nickname for my shotgun is "the dragon" and she bites a bit… it's because again.. of the light weight.
2) The "only" place that has parts is a place in Texas called Briley MFG. They are the only ones that do warranty work on these shotguns, and from what I "read" they "will not" send you a simple part. I have not called them yet.. to be honest and fair.. but that something that I plan to do this week.. just to see how their customer service / facing is.
3) I also read that the over and under (O/U) version that Yildiz makes that had issues with the firing pin a few years back, and after a various amount of time it will break. Hopefully that have fixed this issue. I also found out how to install another firing pin if that happens. I reached out to the Yildiz themselves as I have "read" that they will send out replacement firing pins for "free". Here is hoping as I would feel better if I had a firing pin or two on hand.