Discussion Starter
·
#1
·
RANGE REPORT: FREEDOM MUNITIONS .45 RELOADS WITH SR1911 and PT145 MIL PRO
This afternoon I Christened my new Ruger SR1911 and my well used Taurus PT 145 Millennium Pro with 200 rounds of Freedom Munitions reloaded .45ACP 230gr FMJ. These 4 boxes of .45 reloads are part of the case of 500 that I recently purchased directly from Freedom Munitions. Each box was labeled with the caliber, bullet weight and type, and the word "REMAN".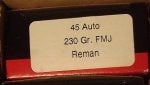 Using only the reloads, I tried a wide assortment of 1911 style magazines in the SR1911, from generic 7 and 8 round blued and nickel plated magazines, to MetalForm 8 and 10 round stainless magazines, to the Ruger factory 7 and 8 round stainless magazines, and there were no failures of any type or kind. All of the mixed headstamp Freedom .45 reloads functioned flawlessly, and were accurate. With the SR1911 fired handheld with my hand on a sandbag, my 25 yard target had 10 shots in one ragged 2" hole, evidence of the reasonable accuracy of the Freedom Munitions reloaded .45ACP.
In my Taurus PT145 Millennium Pro (Stainless), the Freedom Munitions reloads also functioned flawlessly, with no failures of any kind.
There has been some discussion in these threads about how dirty or clean burning these loads are, and today they were about as clean or as dirty as any other 200 rounds of .45 that I have fired.
In the SR1911, 150 rounds of these reloads were fired, and there was some powder staining at the muzzle, the front of the barrel bushing, and the front 1/2" of the slide. In the attached photos, the powder staining shows up as light gray soot, marked by red arrows. (The white coating on the barrel is some of the dry Teflon film coating that I use as a lube.) The bore, chamber, feed ramp, and surrounding areas had some powder staining, such that they appeared as a solid, matt gray covering in those areas.
In the PT145, 50 rounds left a little powder staining at the muzzle and the front of the slide, with a light coating of powder staining in the bore, chamber, and feed ramp.
While both pistols could classify as "dirty", they were no worse than my PT145 and other 1911 pistols were in the past with similar volumes of fire using factory ammo from the major brands.
Both pistols cleaned up quickly, thoroughly, and easily, with a patch wet with Hoppe's #9 eliminating the powder residue with little effort.
Total cleaning time for both .45 pistols was no different than any other ammo that I have used.
Considering its price and performance, I would have no hesitation to use the Freedom Munitions .45ACP reloads again.
TD 3/13/12