I've been IM'd by a number of people to see how these two compare.
First off, let me say that the factory kit on the 92FS is worth every penny, but, it requires quite a few of them.
Secondly, the JAC slide uses standard Beretta dove tail rear sights, so I installed a set of the 3-leaf adjustable units from Beretta on it. (I actually have a set of those on my 92FS as well)
The pic of my JAC kit is a bit old, as I have since had the barrel sent out to be NP3 coated by ROBAR.
To start with, here is the photo of the underbellies for the slides:
Next is a photo of the tops of the slides: (as you can see, neither one has enough barrel hanging out for threading)
I took a shot from the shooter's perspective and you can see that the "silver" kit for the PT92 is a matte finish:
(Beretta has fully adjustable rear sight, the JAC upper has the semi-adjustable Billenium kit installed)
And lastly, a nice profile shot of the pair. I have Hogue grips and grip screws on my PT92 and 92FS. The grips on the 92FS are factory logo options: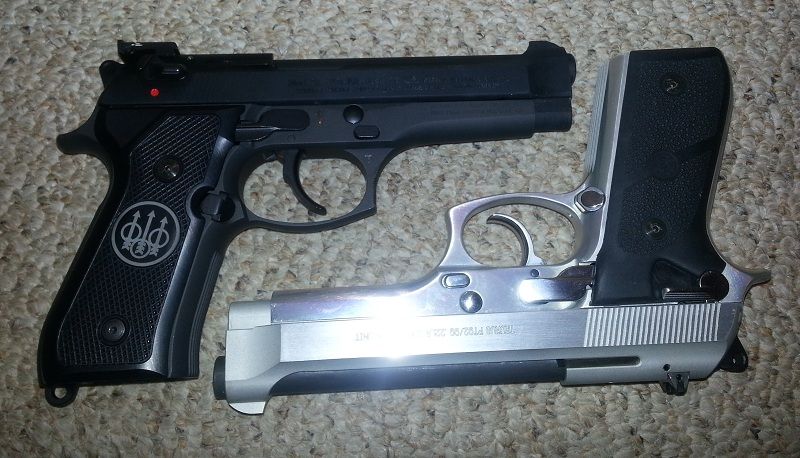 One final note, the JAC kit (once broken in) is very nice and easy to clean. Doesn't feel as "factory" as the Beretta conversion and the magazines from JAC don't lock the slide back.
But for about 1/2 the cost of the Beretta kit, its a wise investment.
I would STRONGLY encourage PT92 owners to consider the kit from JAC if you can put up with the wait.
But for 92FS owners, just get on the waiting list from BerettaUSA.com and have your credit card ready when you get the email.
I had the JAC kit for my 92FS all of about 10 days before I dumped it on Gunbroker years ago.
Hope this helps others with their decision process.
ETA: No, I am not selling either of my guns nor are the conversion kits for sale. JAC has the PT92 kits in stock along with extra hi-cap mags... go bug him.