Discussion Starter
·
#1
·
Two Warnings; 1) This post is really long. I'm a student and so anything I write I tends to take up the pages, call it keeping in practice for all the papers I have to write. And 2) I am new to this hobby/spot, so I may not use all the nomenclature quite perfectly, please feel free to correct me anywhere I make a mistake, or fail to use the right term, that pretty much the only way I can learn.
So when the wife and I realized we were going to be getting the full amount back for our "economic stimulus" rebate, we (read I, but she came around) immediately that it should be called "Federal gun money" and started pistol shopping. After much shopping around, she finally got to hold the Sig Mosquito and fell in love with it's look and feel and so we bought her that one then and there. I on the other hand, was conflicted. I knew I wanted a 9mm (since I already have a S&W model 41 for .22), but I was torn between the CZ SP01, the Baby Eagle and the PT92 stainless. I'd read tons of reviews and faq's, and knew that the CZ was reputed to be pretty much the best in the price range, but my eye's kept going back to the Taurus. Finally the purchase day for me came around and I'd decided on the Taurus over the CZ, due to aesthetics, and the fact that the PT92 came with every feature imaginable and so struck me as an ideal first 9mm (I almost changed my mind at the last minute over a BE with Blackened Chrome finish, has anyone here ever seen one of those before).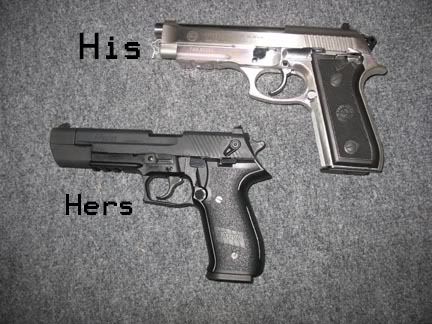 So, home and first strip and clean. As nice as it is on the outside, the inside wasn't quite finished to the same level. There were a few obvious burrs in various places, and some of the corners were a little bumpy. Being a former manufacturing guy this kinda bugged me a little bit, but I do understand that when quality production is being done with a limited profit margin, sometimes you just have to let non function impairing flaws slide on by. So after knocking down the burrs I could reach and swinging by the local GI Joes for ammo (Winchester White Boxes) it was off to the club to start the break in.
First shot, lined up for 6 o'clock sight position, standard stance at an 8 yard target (the furthest my club lets center fire FMJ's shoot), settle my hand around the slightly large grips and BLAM! Solid kick (haven't fired anything larger than a .22 in a while), but easily controllable, slight bite from the backstrap, but WTF? There's no hole in the target! :???: . So another shot, this time there's a hole, in the lower left hand corner of the paper. Several shot later I had torn up the lower left quadrant. With practice through the next few clips I came to find out that to hit bullseye I pretty much had to aim with the muzzle covering the target from my sight picture to hit anywhere near the center :'( . Needless to say I wasn't pleased, but I chocked it up to the break in period and resolved not to let buyers remorse settle in too quickly and ran out about 250 rounds (I should add that I've gotten really spoiled with the accuracy of my Smith Model 41, but I realize that may be an unfair level of comparison).
Next trip went better, I had adopted the weaver stance, and was aiming with the red dot on the bull. I was still tearing up the lower left quad, but the shots were at least closer and my grouping was getting better. Also I had noticed after my first range trip that the tip of my trigger finger was getting sore, but felt nothing like that on my second trip. However I was still upset that my shots were all low and left. Oddly my first shot from each clip tended to be on the bull, with each succeeding shot getting further and further away. I didn't think I was jerking the trigger, but I knew I was showing all the symptoms. About 150-200 rounds went down range that trip.
3rd trip was a killer. My sister wanted in on the action, so she purchased a CZ 75b and came with me down to the range. My shooting with my Taurus was pretty much the same, but when I tried her new pistol I pretty much turned the bulls into a jagged 2" hole with one clip. Hello buyers remorse. Of well, my guns still prettier. The Taurus ate up about 100 rounds that night.
Back to the range, despite my sisters offer, there was no way in hell I was going to bring her straight shooting piece with me (why cripple yourself with a gun that shoots straight right?). This time I resolved to do some ammo testing, so in addition to a few hundred rounds of WWB's, I also brought 100 rounds of Remington and a 50 box of blazer brass. After a warm up clip of WWB's I labeled three targets, and 10 loaded 3 clips with each ammo brand. WWB's first, same as always. Blazers next, and WOW ;D ! Groups all just south of center spanning both left and right quads. Remington's up next, out of 10, three dead nuts, 2 high and the rest just south (still shooting dot on, weaver). Interesting! Throughout the evening I got varied results, but the blazers and the Rem's seemed to shoot consistently better than the Win's. I also started working on something new (to me), keeping both eyes open while I shoot. 350 or so rounds later, I was much happier. Oddly, my shooting even with the win's seemed to improve, though they were still more prone to lower left than were any of the others. I also noticed that I tended to center better while in standard stance rather than weaver)
Last night. Loaded up with 300 rounds of Rems, a 50 of Magtech and the remaining 75 or so WWB's I had remaining. Working on a few things that I had been practicing (non firing of course) at home. Both eyes open, standard instead of weaver stance, and bracing the gun with my off hand index finger in the allotted space on the front of the trigger guard.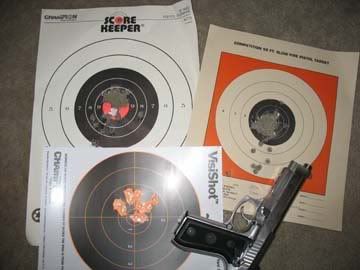 By Jove, I think Ive got it
! Buyers remorse begone! Though I may have pointed more naturally with the CZ, I can now happily conclude that the faults I was seeing were purely in me and not in my gun. There still seems to be some ammo preference to the Rem's over the Win's (were not even going to talk about the blazers, GAWD my gun was dirty after those 50), but I can now conclude that almost all the down and left was my issue, not the guns. Strangely my sister fired my Taurus down and left as well, which leads me to think that there is something about the design that lends itself to a slight wrist tweak when firing, but it certainly nothing that can't be learned around. Even the ammo preference seemed to be much less severe then I first thought it to be, but I assume that subconsciously I was doing something a little different with the Rems and Blazers then I was with the Win's which accounted for the severe change in shot pattern I was seeing.
As for malfunctions, there have been a few times when I could have sworn that I fully engaged the trigger, but the hammer didn't drop. I honestly believe those were me and not the gun though, and 1 time where a case caught in the slide before it was all the way clear. That was during a rapid 4 shot burst, and it's only happened the one time.
All in all, I am VERY happy
.
And I shall call her, Logic!