I recently got a new PT809C. I knew there weren't many options for holsters for it and had planned on buying an Old Faithful holster kit and making my own. After trying a Galco King Tuck that a friend has I decided I just didn't like the feeling of IWB holsters. I have two other IWB holsters that I didn't care for either. I looked all over for a holster made for my 809C and came up with virtually nothing. The only place I found that is making one for the 809C is here:
MaxTuck IWB Holster - Natural Tan Horsehide
I didn't want that style of holster so I went to the gun shop with the 809C and tried out several holsters. The Blackhawk Serpa for the 24/7 OSS fit nicely but was about 1 inch longer than the gun. I suppose I could have gotten that one and cut it down but I didn't like the idea of cutting on a brand new holster. After trying several I found that Blackhawk CQC for the Glock model 29 / 30 / 39 fits the 809C pretty well. I did have to add a small piece of high density foam inside the holster down in front of the trigger guard but after that minor modification it fits very well. I apologize for the huge pictures, I tried to resize them but it didn't work out for some reason.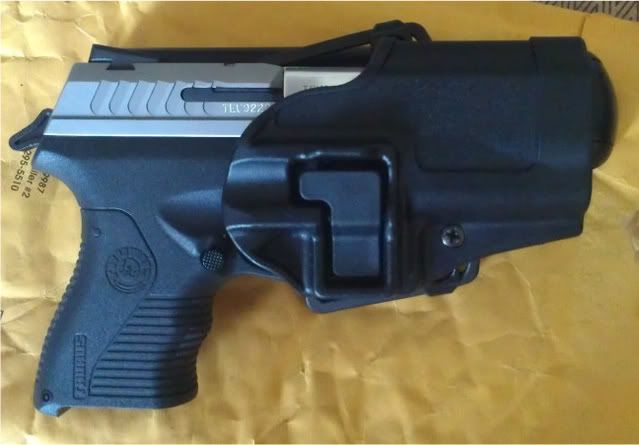 I added this small piece of blue foam to tighten up the fit a little. I glued it in with some clear Liquid Nails small projects adhesive.
here's a photo holding it upside down to show the retention is pretty good
The thickness of the 809C must be pretty close to a Glock 30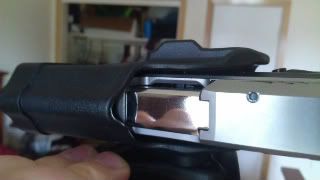 Last one, the slide release lever is pretty close to the holster here so I may shave it down a bit or heat it up and spread it open in that spot.