Discussion Starter
·
#1
·
You know how it is. You start out doing something one way and that is the way you always do it. Even if it doesn't work great it becomes a sort of default action.
When I bought my PT22, I began loading the magazine(s) for my PT22 using my fingers or finger nails to compress the follower spring. Its fairly easy, quick and normally, my fingers are always with me.
As you know, after a few magazines, you rip the end off of a nail and your fingers get sore, cramped, etc.
So I am sitting at my computer and notice a large paper clip...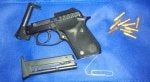 Straighten it out some and it really helps; it still gets to your fingers after a while, but not as bad. I really need to make something better. I think I saw here where someone used a small drill bit as a dowel and a wooden (or aluminum?) button.