Discussion Starter
•
#1
•
I hope this is in the right forum since I cannot find the threads where there were questions about this product. I will just give you a very brief overview since I have only used it once. I felt it was a risk to get this "lesser known" brand and I know others had the same concern but I went ahead and took a chance. I'm including pictures of it from a couple of angles as well as what the lights look like on a target. Please excuse the amateurish photos; it was difficult to hold the phone, the weapon, and manipulate the lights while trying to stay close to the target.
The item feels sturdy and looks, from the exterior at least, well made. It is dead simple to install which is a good thing since the instructions are not great. Both the white light as well as the green laser are bright and serve their purpose well. Now, I didn't really test the white light on the range since it's a very well lit environment but I did cycle through using the laser and using the iron sights.
This is the very first time I have personally handled an item like this. When I was shooting back in the day, it was an external flashlight and nothing at all for a laser. I think I made a mistake because I tried to zero it at home before hitting the range and even when I got there I made some wild adjustments to both elevation and windage. The adjustments are very easy to make with a small hex-head wrench which is included in the box. If you've ever used a laser sight, you will probably avoid all of my mistakes. I was under the impression that you use the laser in conjunction with your iron sights and as a result, my shots were all over the place and made worse by my failed attempts to make changes. Once I got my head out of my a**, everything became much easier.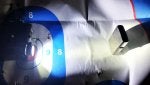 One thing that I did not expect and I expect some of you might run into was the substantial dimming after my first 60 rounds or so. Being that this sight is rechargeable, I thought it was low on juice which was disappointing to say the least. Turns out that was not the issue at all. What happens is that the entire lens becomes coated with what I can only describe as a layer of carbon. I'm sure there is a proper name for it but I don't know what it is. Regardless, it gets so bad that everything dims down significantly. When I discovered what it was, it was easy to deal with by simply cleaning the lens. Keep in mind that the deposits are not like any type of dust, so wiping them off with a cloth won't do the job. I keep my pistol wrapped in a large microfiber cloth when it's in the case and that did work, but you have to put some pressure on it to break it up. Perhaps wet wipes or some water would be a better solution but even if I had those with me, I wouldn't have used them since I don't know how well sealed the sight is yet.
Finally, I will say that this was far from a torture test so I cannot say whether the sight is durable at this point. I can say that during the approximately 120 rounds I put through it, it remained firmly in place and did not budge. The adjustments didn't move either once I got them set. Charging it when I got home was as simple as it gets and I don't remove it from the pistol. There is a magnetic disc on a short USB cable and you just attach it to the bottom of the sight. I didn't measure the time it took to charge but it didn't feel very long.
I hope this helps someone....I'm just trying to give back since some of you have helped me with your replies. Have a great week my friends!