Cruising the pawnshops and found an old pre-decocker PT92. Lots of finish wear but internals were immaculate. Priced at $350 with two magazines. Catch and release as not interested in another SA frame safety metal framed pistol with 5" barrel now. Have plenty of those including in 9mm.
Went cross town and found a shiny PT917CS. This one appeared to have been used and carried regularly. Anodizing worn to a satin sheen on the front and backstrap. Looks like it was never cleaned.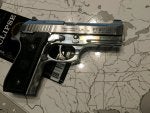 Has a small dent on the front tip of the starboard slide. Probably dropped on concrete. May be a good reason to do a dehorn. Will need to think about that. Nice thing about stainless slide is no refinish is necessary.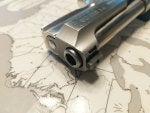 Front sight cleaned up sharp after removing grease, dirt, and lint.
you