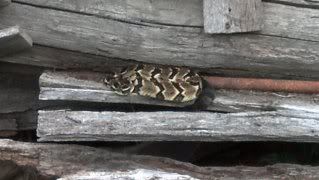 This guy was sleeping and didn't even see the hoe coming. The bad part is I hit him with a glancing blow and caught him with the edge. He's got a nice gash in him but he flipped off the log and scurried under the barn. The wife wanted me to shoot him with the pt145, but it should have been a nice clean kill. I was more worried about a riccochet off the pipe the snake was next to. The guy wascompletely motionless and didn't even have his tongue moving.
The video my wife took while sitting in the truck was quite comical.
Oh well video link won't work. Its probably best since my wife is heckling me in it.