Discussion Starter
·
#1
·
Okay, I've had a PT 745 for about a year. It had to go back to the factory in March to fix a mag release problem. It's been fine since then. I picked it over the 145 sight unseen because it has a slimmer grip and therefore is more concealable. I started carrying a second magazine last fall cause I didn't want to be caught short. Meantime, I was wondering if I shoulda bought the PT145 instead.
Last Monday, I stopped at an out of town store to ogle their guns. I got ahold of a 145 and it immeidately felt better in my hand. I have long fingers, although I don't consider my hands big. Anyway, I knew what needed to be done.
On Wednesday, I showed the PT 745 to a guy I know who likes guns and was looking for a big bore sub compact. He currently carries a Bersa Thunder .380 He said he'd take it, and the deal was made. That afternoon, I stopped at my local gun store and ordered the PT145.
On Friday it arrived. I have never seen so much grease on a gun. But it cleaned up nice.
Now, I've been reading about all of the problems with the 145's. Recoil springs popping out, loading and cycling probs, and it got me a bit worried. But heck, I figured I'd had my bad luck already, and shouldn't have any trouble, right?
On Saturday afternoon I took 2 boxes of Blazer Brass 230 gr ball and a box of Gold Dot 185 gr. HP's to the range. I was not trying for speed, technique, or pinpoint accuracy. Just trying to break in the gun and see if it shoots to point of aim at self defense distance.
I shot 80 rounds of Blazer from a bench rest at 21 feet. Here's a pic of the third mag's results: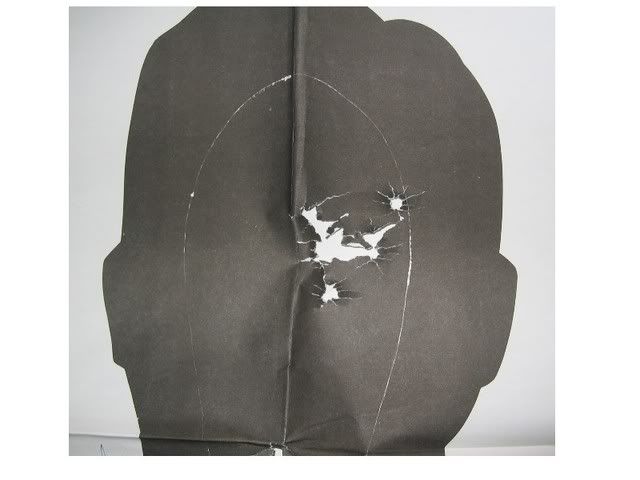 There were absolutely
zero
problems with the Blazer Brass.
I then shot the box of Gold Dots. The slide hung up trying to feed the first round from the magazine, but as I was looking at it, it closed. I just pushed on it a little to make sure it was in battery, and had no more problems. It might have been my grip.
Notes:
The PT145 is easier for me to control than the 745, and I expect this is because the grip fits my hand better. I was noticeably faster on my double taps. Also, I was damn glad I was wearing real eye protection. I had two spent cases careen off the ceiling and into my shooting glasses. The second one burned me above my eyebrow and then slid between my glasses and my face. Good thing I was the only one shooting as I can't tell you with certainty where the muzzle was pointed as I was trying not to burn my eyeball..
I spent Friday evening with a snap cap working the trigger from both SA & DA. I think it helped a lot as well.
I was seriously considering an XD45 compact. I like the XD,s, but these MilPros are sweet!
Here's my baby: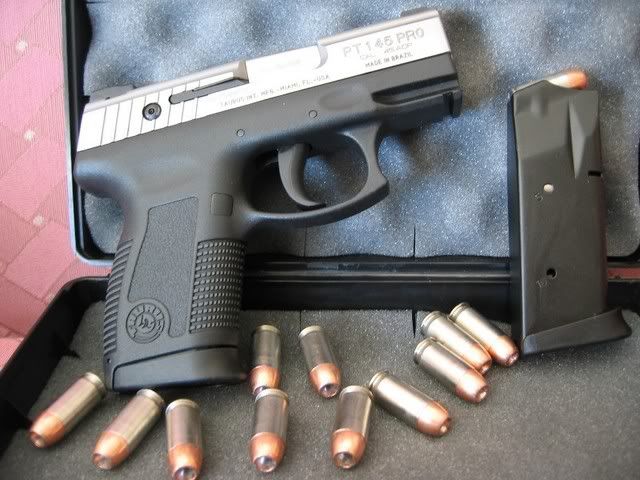 --Edited twice--
First to resize the pics.
Second, although the chamber loaded indicator is popping, it's a snap cap, not a live round.