Discussion Starter
·
#1
·
My first forray into reloading, and it's been quite an adventure.
Over the past week, I picked up a used Lee Pro 1000, and set it up over a used Harbor Freight work bench. When I tried to set it up, I had to visit Home Depot twice and Walmart once (at 11.30 pm, in the middle of a T-storm!). Anyway, it's now set up. The top is tiny (24" X 24") and cluttered with tools, but once I can quit fiddling with it, I think I'll have a bit more space.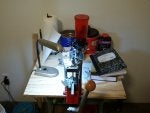 I've had all sorts of teething problems. The primers keep jamming or failing to feed, leading to powder EVERYWHERE! Tip: keep the shell plate holder & shell plate dry. I had less problems then. I thought I'd help things along by lubricating it with some lithium grease, and once powder got in, it was almost impossible to turn.
I tested the primer feed by priming 16 shells. Once I added the hopper, I started to have all sorts of primer issues, probably initiated by a fail-to-prime, followed by the mechanism being jammed by spilled powder. I'm going to have to sort out that problem another day. I was using a paint brush to remove stray grains, but I think I need the canned air to deal with spilled powder better. To avoid vacuum cleaner explosions, I accounted for every single primer, but that seems impractical on scale.
I assembled 16 primed shells with powder and the projectile by manually skipping the deprimer. I'm using AA 7, and the charge bar seems to give me 6.7 +/- 0.2 grains. The powder route was freshly cleaned, so I expect it to improve over time. I'm shooting 124 gr. 9 mm FMJs, and they have an OAL of 1.1475-1.1500, more than the specified, but less than the SAAMI specification. I think that'll be fine. I found one of the cartridges had a high bullet, so I quarantined it somewhere else.
If all goes well, this charge might work (albeit on the light side of AA's start point). I just now want the Z bar to stop falling off, and for the primer feed to get along with the rest of everything.
Fingers crossed that nothing other than a bang and a hit on the bullseye happens tomorrow.