I visited my local gun store this morning. Sad to say, the donuts that were a staple of past Saturday mornings over the years, are no more. It seems that most of the dozen brought by one of the staff were still sitting in the box on Monday morning. Those of us old regulars who consider ourselves donut aficionados are fewer in number of late. The younger help behind the counter these days just don't appreciate good, quality food when it's presented to them. The supplier decided to stop bringing them. :sad2:
A few of the firearms I saw this morning that stick in my mind.
Winchester Model 12 16 gauge pump action shotgun - $350. :clap: This is in great condition. Wood furniture is really good, only a few nicks. The bluing is solid and deep except on the left side of the barrel near the muzzle. My guess is that it spent part of its life in a pickup truck or the trunk of a car, with the stock and chamber area resting on towels or old coats or something, but with the muzzle resting on a sometimes-damp floor of some kind. The rest of its life was in a closet - I could see the dust and closet lint in the chamber area that strongly hints that this was the case. The action is just as slick as the day it was sold new. If my budget allowed, it'd probably be in my safe right now.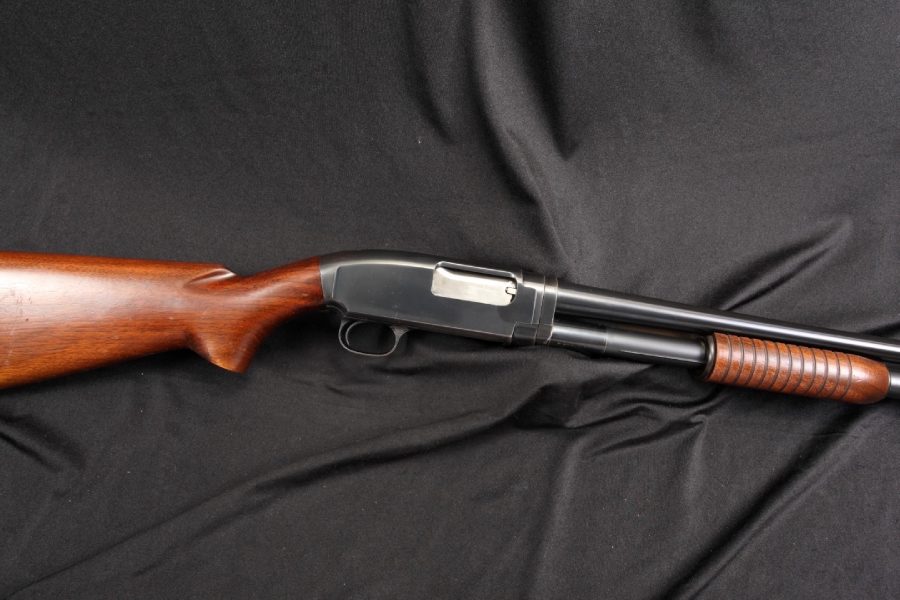 Carl Gustaf Swedish 6.5 x 55 bolt action rifle in original furniture - $650. :biggrin: Wow. This is an outstanding example. Everything is tight and slick and well preserved. No one working the store this morning has any idea how the store owner came upon this old rifle, he just put it on the back wall display a few days ago without saying a word. If my budget allowed, it'd DEFINITELY be in my safe right now.
Mauser K98 8mm bolt action, sporterized - $180. Sporterized with cheap wood furniture, where the butt is too short and the forearm is almost too skinny. The German markings have been buffed off of the top of the chamber. The whole thing was painted in a melancholy olive drab green with a paint brush. :icon_cussing: This K98 has been sitting in the used rifle rack for over a year. I look at it every time I go there. It just begs to be taken home, stripped down and refinished. It is, after all, an original K98. So far, I've managed to resist the temptation. So far . . .
(No picture. It's too ugly.
)
Nazi Germany Mauser K98 8mm with markings, made in 1945. Sporterized, but a much better quality stock than the one listed above, reminiscent of what Remington used to put on their 700s back in the day. Includes Tasco scope and mount professionally secured to the left side of the bolt housing. A very nice rifle that is listed in Gunbroker. If you want to see a picture, the seller is Bulldog Firearms in Rio Rancho, NM. (Friendly pitch only, I am not associated with them in any way . . . other than eating their donuts, if they ever come back.)
Stevens 30-30 bolt action with removable box magazine.
I think it was listed at around $400. Nice condition, not something I particularly want, but it sticks in my mind for not having seen one before.
Usually, when I visit my LGS I'll see the same old plastic stocked stuff week after week. It's rare that a bunch of newcomers show up, unless the store owner scores on an estate sale.
Of those listed, the two I want most are the Winchester Model 12 16 gauge and the Carl Gustaf Swedish 6.5 x 55.
Of the two, I'd pick the Swedish first. :yeahbaby01: The fact that two of my grandparents immigrated from Sweden, and my last name might be Gustafson, has absolutely nothing to do with it. :icon_rolleyes: