Discussion Starter
·
#1
·
Hey guys, i just bought a PT-92AF. It is in way better shape than the pics suggest, and the owner said its 21 y/o...which makes it a 1990 model.
The thing is, i dont believe it is as old as the previous owner said it was. The rollmarks look newer than "Maximumbob54"' 's Taurus which looks to be a older model. Here is his pistol: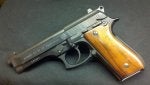 This is my pistol:
,
,
The roll marks look new (in some pics might look faded or worn, but its just the lighting), it has a decocker which isnt a older feature, right?
Anyways, i cant wait to get my pistol out of 10day jail (here in CA). Besides this, i have a glock 30 subcompact, a glock 31 with a 9mm conversion barrel, 2 AR-15's, A old british enfield No1MK3, and a remington 870 shotgun. My gf has a ROSSI .357/38 2" snubnose revolver which is in the Taurus family.
Please let me know what im looking at! Thanks guys!