Discussion Starter
•
#1
•
I am always on the prowl for good condition older firearms, the more forgotten the better. Whilst hanging out at my favorite LGS, I've seen this old Italian/Turkish Cougar 8000 for months. It came in with a few old Sig 250's from an older gent, who doesn't shoot much. My pastor bought one of the 250's, I saw the like new condition of that one, and decided I needed a little more Turkey in my life. il tachino fantastico!
This Cougar came like new complete in the box, with cleaning tools,manual, and three Stoeger 15 round magazines. If it was fired, there is no indication of it. The cougar is an all metal pistola, with an alloy frame and stainless steel slide in an almost cerakote finish, although I doubt that is the finish, lets call it a shiny bruniton finish.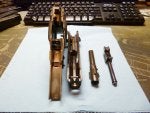 This is how it looked after running 250 rounds over three shooting sessions with no failures. My cougar weighs 30.6oz's with an unloaded magazine, 37.7 oz's with 16 rounds of 124grn golden sabers. OAL = 7.1", OAW = 1.5" (at decocker/safety levers), OAH = 5.5". The barrel is 3.6" long and I measure the trigger reach at 2.9" (from grip to trigger blade). I installed a Beretta D spring and now the trigger pull in DA = 5lbs 11 oz's, SA = 2lbs 10 oz's. The DA pull is a long 5/8" - smooth to a hard wall, and about a 1/16" break. The reset is 3/16" and tactile/audible. The slide runs like polished glass. I did install some grip tape, those plastic grip panels don't provide much traction. I used grip decals cut for a full size PX4, did a bit of trimming. The grip work really helped in the accuracy department.
The pistol comes with bright 3 dot sights. Excellent slidestop/release and breaks down just like a Beretta 92. The Cougar has a unique rotating barrel making the recoil impulse more of a push than a rock, and is very mild. Follow up shots are so easy with this design.The decocker safety is slide mounted, there are no front slide serrations, but it does have a 2 slot pic rail for accessories. My total cost for this European 9mm was $320.
The target above is the result of today's shooting, using a mix of 115 and 124grn reloads at 15 yards, I did back out to 20 yards for the last magazine. The hits kept on circling the bullseye. I am quite impressed, inexpensive, accurate, easy to shoot, reliable and perfect ergos for me. Another great find from my favorite LGS.