Discussion Starter
·
#1
·
I have picked up a couple of used revolvers this month. My first purchase was a surplus S&W 64-5 38 special in stainless. It is dinged and scratched but the lockup and timing is like new.
Then my Gun shop friend made the mistake of accidently texting me late night last Thursday he had a Taurus 669 in like new condition. He was just showing it off, as a rare find. I had to haggle with him, but I brought that home as well.
The 669 is the 4" ported version. It is in amazing shape, lockup is rock solid, timing is perfect, cylinder gap is at .002. Originally the DA was a bit rough and measured at 12.5lbs, the SA was 5 lbs. I took it apart and polished all friction surfaces, stoned the sear lightly, replaced the factory hammer spring with a 10lb Wolff I had sitting around. Did a light lube and now DA is 8.5lbs and SA is at 3lbs. The trigger is as smooth as a Ruger.
The 64-5 is a police trade in, and has lots of character. But mechanically in excellent condition. I also did a take down and polish etc..Replacing the factory trigger rebound spring with a Wolff, but left the hammer spring as it was. The DA pull is a smooth 10 lbs and SA is 3.5lbs. Both of these 6 shot revolvers are accurate and low recoil. I do get a little bit of knuckle knock with the 669 on hot Rem HTP 357 magnums, and a bit of wrist buzz. I imagine a Pachmayr rubber grip would resolve all of that. But the wood grips are like new and just look so good, I will probably leave them on.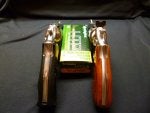 The 357 mag 669 like I said is the 4" ported model (actually it is a 3" barrel, the shroud is what is ported and adds an inch to the length). This manner of porting doesn't do much to tame recoil unlike the 627, whose porting does reduce recoil. But it looks cool, so there is that. It has fully adjustable rear sites with an insert blade front sight. It weighs 36.1 oz, and is generally the same size as a S&W 64 or 65. This model of Taurus reminds me more of a GP100, seeming over built but svelte. Accuracy with 357 is outstanding. My first 6 shots, using SA mode,gave me a 1.5 inch group in the bullseye at 15 yards. I put 60 rounds through it today using 357, 38 special, and my handloads. it functioned flawlessly and was accurate with 38 special , just a small shift in POI from 357.
The 38 special 64-5 weighs in 35.8ozs, Has gutter rear and a blade front sight that I painted orange. It came with the original S&W boot wood grips, I replaced them with a Pachmayr gripper grip. Both revolvers are as accurate as I can be. These targets represent both SA and DA modes.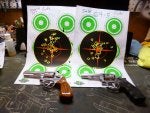 These are two finds with similar age and are a great addition to my collection. The S&W hangs with me while I am working my property, with snake shot and HP's in it for critter control.
The Taurus however is going to spend time in the safe with some other too nice to drag around firearms. This is a Taurus that may actually appreciate in value with age..Maybe. thanks for checking out my two revolver finds this month.