Discussion Starter
·
#1
·
Hi, I'm new here. I'm a new Taurus revolver owner. I traded a Smith and Wesson 64-5 Police trade in 38 special for a Taurus 431 in 44 special.
The 431 dates back to 1994 and looks like it has been sitting in a safe since then.
It's the stainless 3" bbl, fixed sites model.
I'm not really a 44 special guy but I couldn't resist how nice this gun looks. It's all steel, no mim, no lock and has a beautiful stainless finish.
It looks so nice I don't even want to carry it. I tried finding some examples for sale on gun borker and could only find one in the completed auctions tab that sold for $575 buy it now in similar condition. Having checked verious auction sites, etc I couldn't even find any for sale anywhere at the current moment.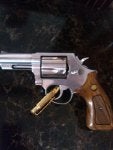 Frankly, having owned both S&W revolvers and now this, I have to say I am impressed with the build quality on this piece. Even the hammer and trigger are stainless, and there doesn't seem to be any mim parts, no lock, etc.
My question is how rare is this gun? If only 1 came up for sale on gun boker in the past 6 months in this condition and it sold for $575 buy it now did the guy list it too low?
It certainly seems nicer than most of the revolvers I see for sale in the $500 to $600 at my local gun store, either Smith or Taurus. Is this just a very good example of a beautiful revolver from a by gone era??