One day while shooting with my buddy and his are style 7mm 08 rifle, he pulled out this basic catcher and slapped it on. Well it would cause a failure to extract every couple shots as the empty cases would get hung up going in the bag.so I started researching brass catchers and came across a pretty sweet design being sold. The problem for me was the starting price.of.about $80 and up to around $120 and up. It was made with kydex and a bag looked fairly simple since I have played with molding kydex in thce past. So I got to work.
I am a perfectionist, so it took a few tries and more hours than I thought. The hardest part for me at the beginning was getting the bag right and getting a pattern I could duplicate. I had picked up a sewing machine and started learning how to work it. Running a good stitch consistently is still a bit of a challenge for me, but I sewed a couple of these bags together good enough that they won't come apart, so I am happy.
Here's the basic look.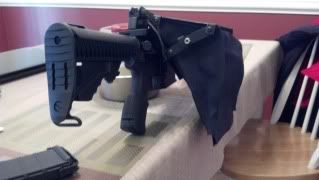 I used a quick detach scope ring to make a side rail mou
I made a zombie version with a top mount for an add on rail to a standard handguard for my buddy. For the top mount, I used a quick detach bipod mount.