Discussion Starter
·
#1
·
So I decided to try my hand at shooting a little gun-porn. So heres some pics of my PT92 (2500 rnds and still 0 problems) and friends.
First up, the Pistol Familly
From top left to bottom right we have; CZ75B, Taurus PT92, Sig Mosquito and last but not least the most accurate of the bunch the S&W Model 41.
Next, the two hander set up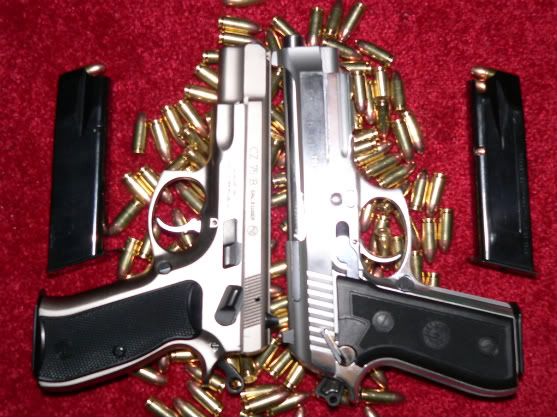 The Hers and His set (the Sig belongs to the lady)
Then we have my favorite threesome (okay, so its not really my favorite threesome, but I like that caption)
And finally, from bottom to top we have the opening line up.
The
little
friend at the bottom is the trusty Mossberg Pump action, and on the top is the last resort.
Unfortunatlly my cams battery died before I could the shots that include the Browning trap gun or the Wetherby .22, but Ill be sure to get those into the next set (as well as figure out a way to get the PT92 out of the shots, I swear that thing just loves the camera!).