As I said in a post last week, I put together a BBQ and Family Range Day with friends at a local range. I am starting a new thread because I have a lot to share and a side note about Taurus International that every member of this forum (and other forums also) should read.

There were about 65 people that attended. The group picture below shows about 40 or 45 I believe because others were still on the range and missed the photo.

Taurus Int. is located in Miami, Florida, about 450 miles or so away from where the BBQ was held. I have worked with Taurus in the past so even though I did not think it would happen, I called Mark Kresser, Pres and CEO of Taurus, and invited him to attend. I figured everyone loves a BBQ, right?

Well, he replied back that he would love to join us and he would let me know. Up until last week he still wasn't sure if he would be in Florida to attend. Then, last Wednesday, he called and told me he just couldn't get his schedule right and he could not make it. He asked if I was OK with him sending Kimberly Intagliata, Director Of Customer Service/Repair, and Gabriel Cabrera, Customer Service and Trainer Tech Writer to represent him as well as Taurus Int.

As y'all can imagine I was thrilled. I welcomed them completely and asked that they bring some catalogs, pamphlets, and Carry On material with them.

As promised, Beverly and Gabriel both showed up on scheduled. I asked if they brought the requested material I requested and they told me they had brought a lot of "stuff" and could I find them a couple people to help unload the car... When I saw what they had I was shocked!

In addition to the materials I requested they had pins, lanyards, key chains, and a big surprise... they had not only more than a dozen different new Taurus handguns but also a couple brand new Diamondback AR 15's. On top of that, I had about 65 people at the BBQ and they brought enough ammunition that everyone there shot the firearms they brought with them all day! I figure, over the course of the whole day they allowed us to shoot up close to $3000 in ammunition. That, by the way, is a conservative estimate. They brought both semi auto pistols and also revolvers and they were from .22 all the way up to .454 Casull.

They also brought me a new Diamondback AR for field testing and a complete review. I will post the review when I get it done.

I also had other manufacturers there... AdeQ Tactical, a small company in Tampa that makes custom hand fitted Tactical and sniper rifles, provided a number of AR patrol rifles in 5.56 as well as sniper rifles in .308 for all of us to enjoy shooting. The rifles were both suppressed and non suppressed.

Grizzly Steel Targets, also out of Tampa, was there with their targets and also gave me two of their steel plate targets complete with hangers to be given away during the day.

There were organized competitions ( 50 yard .22 rifle, both open sights and modified, as well as concealed carry weapons both men and women) with prizes awarded.

There were also donated door prizes awarded through out the day and everyone got at least one door prize to take home.All in all, it was a magnificent day.

There were kids as young as 4 years old shooting and enjoying the .22 caliber firearms that were available. I've included some photos of them below. Some of the kids shot their own pellet/BB guns they brought from home.

Please don't tell me children that young should not be allowed to shoot. All children were double supervised (parents as well as range officers), wore wrap around eye protection, and double (both inside the ear and muffs over the outside of the ear) ear protection. The younger children were only allowed to shoot .22's and only where there were no large calibers being fired within 5 lanes of their position. The people involved are experienced ( a majority are NRA Instructors of one venue or another) shooters, well trained in safe shooting. And on top of that, no animals were harmed either!

Thanks for taking the time to read my report.....

Don
.

.
This is a group shot...

.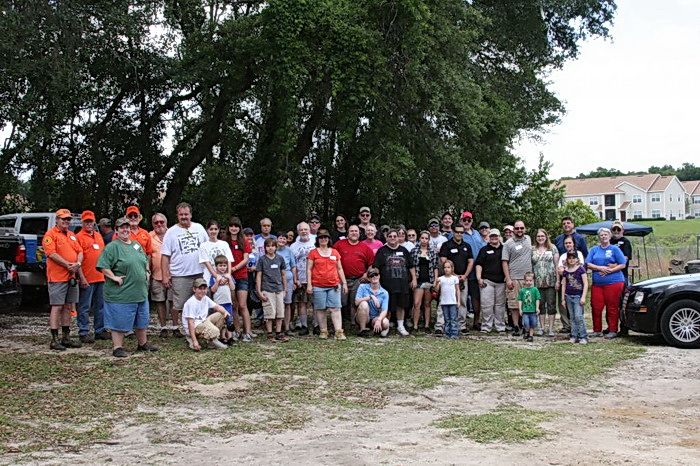 .

.
Door Prize Table...
.

.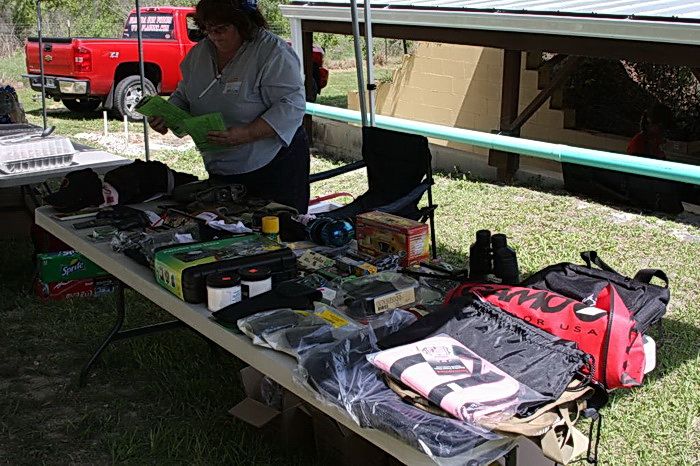 .

.
Our Burgermeister..
.

.


.

.
One of our younger shooters in the .22 competition
..
.

.

.
Everybody helps out!
.

.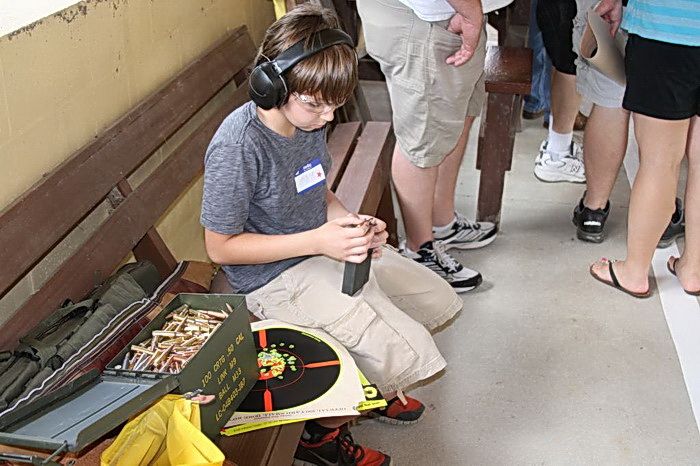 .

.
A couple suppressed AR's
.

.


.

.
Myself with Kimberly and Gabriel from Taurus
.

.


.

.
More in the next post...
.
.