Oh the poor poor ole Ruger P series guns, they often end up hiding in the gun shelves, surrounded by prettier pistols ( Glocks really!!!! ). I think most clerks assume the old ugly superstar , won't sell and makes other guns look better than they are. I found my latest acquisition on a bottom shelf surrounded by Glocks and Sig's at one of my local LGS's. When I asked to look at it the sales guy acted like he couldn't see it, kept grabbing Sig's..Finally he drug it out and the price was too high...$359. I explained to him that the P90 was too distracting being so big etc..and that I would be willing to take it out of his case to help his sales for $259.
OK OK the sales guy is not that gullible, but he came back with $319, I took him down to $279 and he relented. Didn't hurt that three other customers were vying for his time.
It actually is in very good shape, a little clean up and it looks very nice -- for a P90. I ordered a Promag 10 round ext magazine and a Hogue boot grip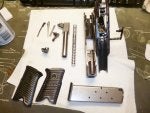 I did some light polishing on the feed ramps, slide rails, barrel and guide rod. Did a complete tear down for cleaning and lube. The P-Series are
short recoil
—operated, locked breech semi-automatic pistols. They use a
SIG P220
type locking system, and an M1911-style tilting barrel. The P-Series were made with a traditional
double-action/single-action
(DA/SA), or double-action-only (DAO) trigger mechanism. The P90 is a scaled-up version of the P89 chambered in
.45 ACP
with an aluminum frame. It was introduced in 1991 as the company's first attempt at a .45 ACP, and was in direct competition with Sig Sauer's P220, Smith and Wesson's 4500 series, and to a lesser extent Glock's G21 that came out the same year. The P90 is considered to have above average accuracy for its price. This tank weighs in at 39.4oz's with 7+1 of 230 grain ball ammo. The DA trigger pull is a long but smooth 1" of travel before a good break of 10LBS. The SA reset is about 3/4 " and breaks crisply at 4.5lbs. This pistol was built in 2000, 18 years old and still a great 45 caliber slugger.
Here it is with the Hogue grip and Promag ext magazine. Be aware the lower part of these mags have very sharp edges, took some sandpaper to those edges and no problems. I know it looks re-diculous with that long mag, but it doesn't impact the balance that much, and is easy to load. So far 200 rounds in , 0 malfunctions and oh boy the accuracy!
I really can't explain my range results from yesterdays shooting. I started at 15 yards and noticed on paper it was keeping rounds in a 2 inch pattern centered on the bullseye. So I put up this 8" sticky and backed up to 25 yards. This is 25 rounds pretty much through the same hole. Outstanding performance in good light. However with the smallish 3 dot site system I doubt I could repeat my results on a cloudy day. What can I say - for $279 I picked up a 45 almost equal to my competition Colt 1911. Another Ruger surprise.