Discussion Starter
·
#1
·
As I have reported in earlier posts there are a lot of products at the Shot Show that you will not see unless you take the time to wander around the smaller booths.

One particular company I would like to share with you is Unique-Ars located in McCall, Idaho. The products this company makes are not for everyone.... however, if you truly want an AR that is different from the other 10 bazillion AR's you see everywhere then they may be for you.

Unique-ARs basically makes one product and that is custom foregrips. They offer a full line of totally unique foregrips and they can also make you a completely custom, one of a kind foregrip for your AR.

All of their foregrips are manufactured from 6061 t6 aluminum and are free floating. They are available in more than 100 different designs and many colors. If you want something one of a kind simply contact them with your idea and a drawing and they can make it happen! If you can picture it they can make it!

When I talked with them at Shot I was impressed not only with their products but with the enthusiasm and excitement all of their people shared. They use a proprietary mounting system that make installing one of their foregrips simple and rock solid. The quality, fit, and finish of their machining is flawless and I can not find the slightest blemish anywhere on the sample they sent me.

Their foregrips are built to accept rails if desired and in my opinion are as good as and much better looking than any quad rail I have seen or used.

The foregrips are not cheap but neither is any quality foregrip. At the very least, the foregrip you get from Unique-ARs is truly a custom part and will bring a lot of attention at the range!

I asked for a pistol length foregrip and I received one in black done in the Hex pattern. I wanted it for a custom .300 BLK Pistol I was building with a stainless barrel (I will be doing a separate report on the gun shortly). The foregrip really sets the gun apart and highlights the stainless barrel nicely. I did test fire the gun to see if my hand remained comfortable when the barrel heated up and I can report that after plinking through 3 magazines of .300 BLK the barrel was too hot to touch but the foregrip, while it got warm, was still comfortable to hold.

Take a minute and check out their website... look at the designs available and maybe even imagine something special for your AR... sometimes it is just nice to have something different!

https://unique-ars.com/

Don

.


.

.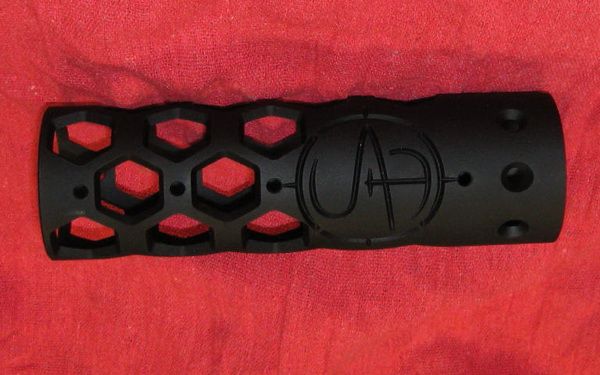 .

.


.

.