Discussion Starter
·
#1
·
I haven't really looked at anything Taurus until 4 days ago. I recently acquired a .38 special S&W pre-model 10 that dates back to 1949. I am not a real big revolver fan and not a really big .38 fan, especially since I already have a ruger blackhawk .357 that can shoot .38's. So I set out today to find something semi-auto in 9mm. I chose 9mm because it was the cheapest to shoot. I had the .38 appraised at 250-300 dollars, not in bad shape, it was just produced in record amounts and not very sought after today.
I started my day off at a pawn shop and saw a Ruger LC9 for 389.99 that seemed to fit the bill. I told the guy about the .38 I had and he offered me 300 for it. I told him I would be back, because I wanted to look around town.
I then went to the gun shop I used to work at. They had a 709 slim for 389.99 that I liked even better than the Ruger and right beside it a Kahr CM9 for 429.99. After a bit of haggling he told me he would give me 265 dollars for trading in my .38... I turned him down and went to another gun shop that only had rifles in stock....
So I started driving back home and out of the corner of my eye I saw a little pawn shop I never heard of. So I stopped in there, and low and behold, a black 9mm OSS DS for 325. So I brought up that I wanted to trade my .38 for it and he told me that he would like to see it, but no promises. So I went out the the car and brought it back in. He told me right on the spot that he would straight across trade because he wanted the .38 for himself. I filled out some paperwork, showed him my CWP and now I am the new owner of a brand new 9mm OSS.
I got the OSS home and broke it apart and to my surprise it still has the cosmoline in it. Further inspection looks like it has never before been fired! There was a little wear on the saftey on both sides, but I wasn't too worried about it.
Next weekend I will post a full range report. Lets see if my dad can still outshoot me with his para, haha.
This is the .38 I traded in. Not very practical for my uses, plus I really didn't need another revolver.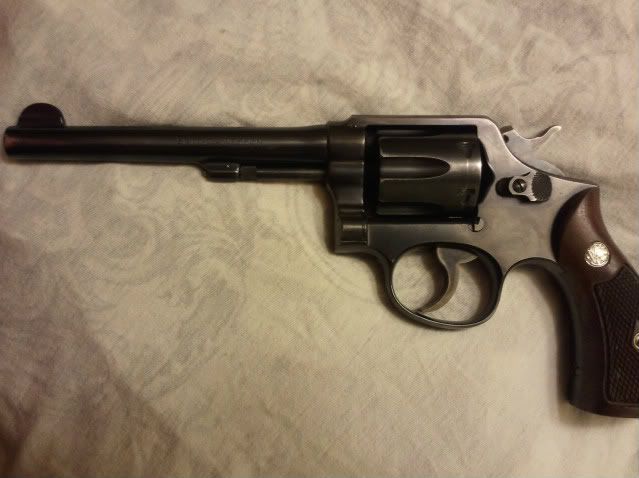 Here is the 9mm OSS. My first 9mm pistol. I have pretty much owned .45's,44's and 357's my whole life.