Discussion Starter
·
#1
·
I have to start by saying that I'm still not sold on this model.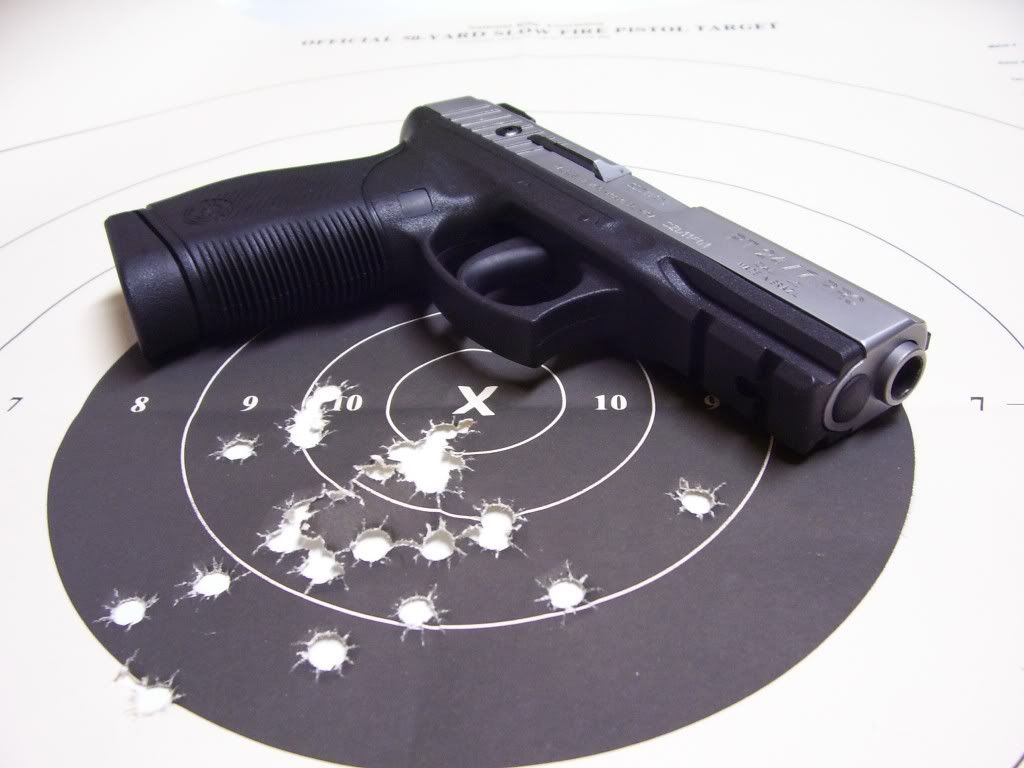 My 24/7 Pro is a 2006 model. I bought it because the NRA (bless their collective hearts) named it "Handgun of the Year". It's the one with the soft rubber grippy fingers on the frontstrap that make the grip feel really good in your hand.
When I first got it, the first few magazines I ran through it were fine. After that, though, it became a total jam-omatic. I mean, I couldn't get through a single magazine without at least two or three stoppages. I tried all kinds of things - I sent the magazines in for new ones, I lubed the crap out of it, I greased the rails, greased the slide, tried eight or ten different kinds of ammunition, hardball, hollowpoints, cheap ammo, expensive ammo... I noticed the followers seemed to not travel as freely as they might, so I shaved down their skirts. I watched my grip, tried to make sure I was holding it firm and not limp-wristing it. Made sure I wasn't hitting the slide lock by accident...
Nothing helped. After a couple dozen trips to the range, I gave up. I chucked it up on a shelf and decided it just wasn't worth the effort. I really wanted to like it, I liked the way it felt in your hand, it was accurate enough... when it did fire. I just couldn't get past the unreliability of it.
A couple of months ago, I thought about selling it. I felt that I couldn't in good conscience sell it without telling any prospective buyers what a hunk of (s)crap metal it was, though. I decided that I'd give Taurus a chance to un-bungle their mess. You can ship a handgun to a manufacturer yourself, but because UPS and FedEx are the only game in town when it comes to this, they make you ship it Next Day Air. I couldn't stand the idea of paying top dollar to ship it down there. Luckily, I found a local dealer who was willing to ship it for me at his cost. It took about five weeks to get it back. We unboxed it, the FFL and I, and proceeded to run a few magazines through it. The difference was like night and day.
I deliberately tried to get it to malfunction. I limp-wristed the crap out of it. I fired it fast, I fired it slow, I fired a couple different kinds of ammo through it. I couldn't make it jam, and I tried hard. I still don't altogether trust it, and I won't at this point until I get four or five hundred properly-functioning rounds through it. The reason for this post is this: In the paperwork they sent back with the pistol, they never actually said what they did to it. They sent a little card with the initials of whoever worked on it, whoever cleaned it, whoever boxed it up... They sent back two brand-spanking-new magazines with it to replace the two I had sent in. But no word on what the actual problem was.
I pulled the slide off and took a look inside. Aside from the two new magazines, the only difference I can see is pointed to in this photo: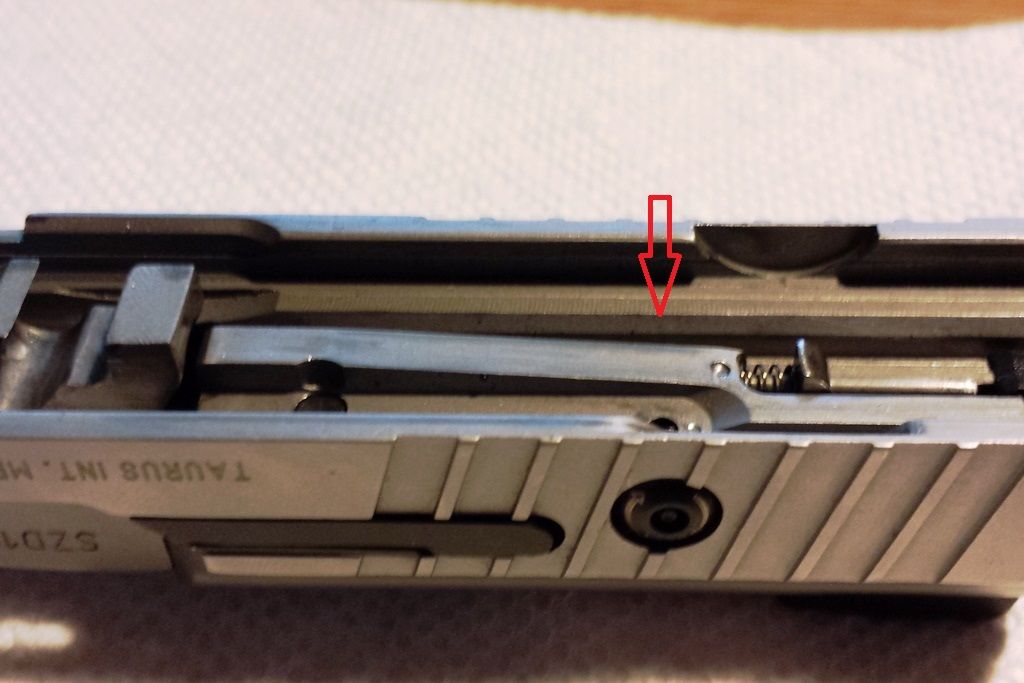 It seems to me that the area of the slide the arrow is pointing to used to be more squared off, and it looks like there are machining marks where they've ramped it down toward the rear of the pistol. It kind of goes to figure that making a ramp like that would make the slide travel easier over the sear, and the rest of the crap in there. I'd be interested to see if anybody could post an unaltered, early model 24/7 Pro so I could compare theirs with mine...