Discussion Starter
·
#1
·
A lot of my friends, as well as other folks, know that I am a .22 junky. Especially old, unique, different, and or hard to find .22's. Many times one of these folks have come across a .22 I might be interested in and think of me. It is amazing where some of my .22's have been found....

Anyway, Vic at Florida Ammo Traders in Tampa called me the other day. He knows of my addiction and has made it possible for me to get a number of my better .22's. He said he had a cool old Remington .22 in his shop and he would hold it for me until I could take a look at it. He told me it was a model 521 and he judged it about 85%.

Well yesterday, after our range trip, a friend and I met Vic for lunch in Tampa and then went over to his shop so I could pick up some ammo and a couple P-Mags he had for me. I also wanted to look at the .22.

It is a Remington Model 521T target rifle. The gun is a bolt action magazine fed (5 shot magazine) rifle with a beaver tail fore end. These guns are getting scarce and I have not seen many that were in anywhere near the condition of this one. Remington produced the 521 from 1949 through 1972. Even though they were manufactured for about 23 years there were only about 65,000 total rifles produced.

What I was most happy about was that these rifles were originally manufactured with a Lyman fully adjustable peep rear sight and a hooded front sight with an insert and this rifle was complete including the sights!

The 521 has a 25 inch barrel and is 42 inches over all length. It has a 13 and 1/2 inch LOP. Total weight with an empty magazine is 8 and 1/2 pounds and the trigger pull (5 pull average) is a crisp 2 pounds 10 ounces.

Most early firearms of this age do not have serial numbers but Remington has a letter/number code that allows one to determine the date of manufacture. My Remington dates back to 1951! It is 62 years old and still looks like a new rifle...

I hope to get the gun out to the range for a complete test and report in the next week or so and I will post again when I do that.

Here are some pics of the old lady.....

Don

.


.

.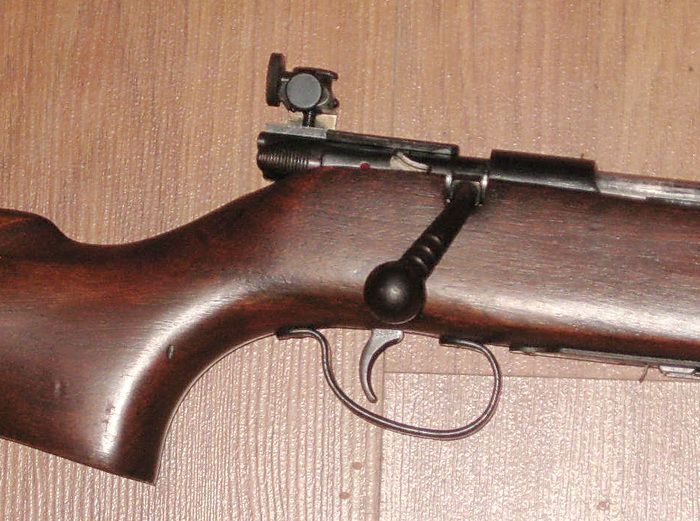 .

.

.