Discussion Starter
•
#1
•
I took advantage of one of the many black Friday deals on the Taurus G2C's. I got mine from Brownell's and using both codes got it shipped to my FFL for $188. Add $15 4473 fee and total investment is $203. I had one of the early G2C's and enjoyed it a lot. One of my highest ranked review posts are of a battle between the G2C and a Glock 19. Close to 18,000 views so far. But I was still buying/reviewing/selling pistols by the scores and didn't keep it. But as I lug around my PPQ this winter, I started thinking about a smaller/lighter solution. Should I get a Hellcat, a 365XL or get the original micro compact game changer the Taurus G2C.
That's right - the G2C changed the game by showing the gun community, you can make a small hi cap pistol well and not charge the consumer a high price. 12+1 was not generally an available choice in the micro compact model range until the G2 hit the scene. The G2C further refined the G2 and a star was born.
Here is my G2C after slightly over 200 rounds of mixed loads today. Wear zones have expected finish rub, but not unusual at all. I had no failures today and ejection was consistent at about 8-10 feet behind and right in a nice easy to fleece pile. Even my light hand loads running at est. 780FPS, cycled fine, ejected not quite as far, but were accurate. In fact once I got a feel for the pistol and sites, it just became one big hole on the target. My trigger pull is a consistent 4.5lbs, and is smooth when shooting. I do not concern myself with the trigger safety blade hitch, as it is not present when actually firing this pistol.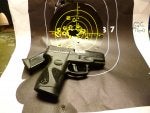 Not going to go into all the specs as there are so many reviews out there that do a great job explaining the features and facts. Just going to talk about shooting impressions:
First 50 or so rounds were left about 2 inches. As I shot more, between the pistol breaking in and I becoming more familiar with the recoil and sites the hits began to move to the center. This target was shot at 15 yards during a cool,cloudy, blustery day. As I said just one big hole in the center. One of the mags is a bit difficult to eject, the other is average. So I will do a little filing on the failing mag cutouts to resolve that issue. But overall just as I remembered this pistol can shoot and is accurate. Recoil is - well, just not a deal. Not too snappy, grip textures are perfect, sights are cheap but usable. The slide finish is not the greatest, but for a $200 pistol what can I say. G3 magazines work in the G2C. Also I have read the G3 slide will fit and operate on the G2C and visa versa. I will be verifying that in a few weeks. Thank you for reading this review, if not already a TaurusArmed.net subscriber please look us up and come by for a visit.