Discussion Starter
·
#1
·
My main interest is for concealed carry and I'm having a hard time finding the information that will help me to make up my mind.
Questions I have are:
1) Is a full sized 24/7 (4" barrel, full sized grip) too large for practical concealed carry? I know, I know... It depends on the concealment method used, but does anyone here have any experience with both 4" and compact (3 1/3") versions and is there a significant difference that would make you strongly prefer the compact version for concealment?
2) Are the compact versions using a shorted grip now? I've seen pictures of compact versions that have the full-sized grips and other pictures showing a shortened grip.
I'm having a very hard time figuring out what type of grip comes on a compact 24/7 in .40 S&W. The images on some sites show a full sized grip. Images on other sites show a somewhat shortened grip, more like the length of a PT140 grip. Some sites say 10+1. Some sites say 15+1. Others say 15+1 or 11+1. Others say 15+1 and 11+1 (both included). They all refer to the same models:
24/7-40SSC-15 or -10
24/7-40BC-15 or -10
Obviously, the -10 part numbers are for versions with 10 capacity magazines.
I'm leaning toward a 24/7 Pro C in .40 S&W as long as the grip is not a full-sized grip (since my main intent is concealed carry). However, if it comes with the full-sized grip, I'm more inclined to go with the regular 24/7 Pro in .40 S&W because it's easy to conceal the extra 2/3" of barrel. It's the grip that's hard to conceal.
Do you know how I can find out what is actually being shipped or if there are both full-sized and compact grip offerings in the so-called compact model lineup?
For reference, here's a picture of kansas_plainsman's 24/7 Pro C in 9mm (on the left):
And here's what Bud's Gun Shop shows for the same gun: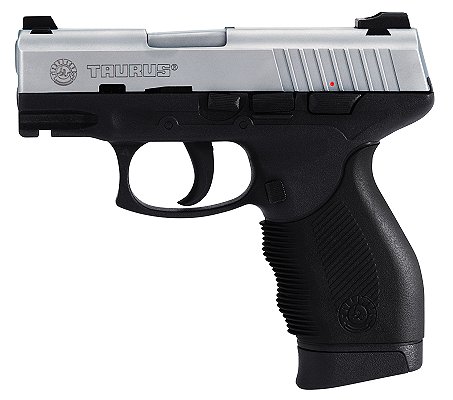 Notice that the one from Bud's Gun Shop has a longer grip. (Look at the number of waves in the fingergrip area of the grip. Bud's image shows two full waves, but kansas_plainsman's gun only has about 1 1/2 waves - clearly a shorter grip)
What I'm thinking is that the 24/7 Pro C versions now come with shortened grips and that the 15 shot magazine makes up the extra grip length with a rubber overmold on the bottom of the magazine. The 11 shot magazine would be nearly flush with the bottom of the grip with only a short rubber overmold. That would mean that the 24/7 Pro C magazines would not interchange directly with the regular 24/7 magazines.