Discussion Starter
·
#1
·
I got this a while ago. Used to belong the the #2 Zagreb police department. Still had their property tag on it. For all intents and purposes, this was a brand new, unfired 38 year old rifle. Since I got it, I have had a match quality trigger job done, and found REALLY good ammunition it likes. I am keeping it all original, except for the "quick change" stock and gas tube/hand guard that allows a "scout" type scope installation. Here's a shot of the little honey before and then after the stock swap. It's a drop in and takes about 2 minutes to change: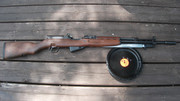 Target shot at 100 yards with the iron sights...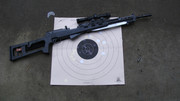 200 yards with 4x magnification. I think I really like this rifle...and the dual personality is interesting!